Archive 2009
17 December – ICAO releases the IBIS report on bird strikes from 2001 to 2007
ICAO recently issued the 2001- 2007
BIRD STRIKE ANALYSES
(IBIS) based on 42 508 reports, received from fifty-one States and territories on strikes occurring in 145 States. Therefore we understand that two States out of three do not send reports about the strikes occurred on their own territory. We may so deduce that the total number of reported impacts with birds is largely lower than the real, as it is well known: it is generally supposed that the total number of known impacts is about 20% of the actual strikes all over the world.
According to the report, 64% of bird strikes occurred during the day, while 24% during the night; 96% occurred on or near the aerodrome, and 54% during approach and landing roll (this datum basically corresponds to Italian figures). The report contains also many other interesting keys for studying the bird strike issue.
11 December – Airport Wildlife Management Seminar
Embry-Riddle Aeronautical University (ERAU), in cooperation with the Athens International Airport, organizes in Athens from
16 to 18 March 2010
an Airport Wildlife Management Seminar. The seminar will be run by professional educators who have direct experience with airport wildlife control. The course consists of 2 ½ days of classroom lectures and one half day field trip to the Athens airport.
For further information please
click here
.
4 December - Significant bird strike events occurred on November 2009
Several are the relevant events occurred in this month, at least two of them really worrying. We are alluding to the cases of Phoenix (2/11) and Kansas City (14/11). Both occurred en route, far from airports, and therefore require remote sensing strategies, that are already in an advanced state in the USA. In the first case pressurization problems occurred due to a big hole in a Md80 fuselage, in the second both engines of an A319 were involved. In both cases Canada geese are the prime suspects, species present also in Northern Europe. In Europe the San Sebastian event (10/11) raised strong complaints and concerns from the local pilot association: for airports in so critical environmental conditions (the airport is surrounded by water surfaces) extraordinary commitments and resources would be needed, but it seems they are not deployed. Even where such resources are disposed, like Vancouver, we find two cases (5 and 16/11) of multiple impact at takeoff, that in one case caused a chain of go-arounds to approaching airplanes. We wrote at length in the news about Brescia, while unfortunately we still have to observe impacts with mammals on the runway, manifest signals of poor fence maintenance: this time (3/11) an aircraft has been destroyed in an African capital town (not in a remote strip in the jungle!), fortunately without casualties.
1 November


Unknown, Brussels Airlines A330, found evidences of a bird strike after a flight from Dakar;
1 November

Porto, Ryanair B737, forced to divert due to the presence of dogs on the runway; ground staff found out bird strike evidences;

1 November


Zurigo, Swiss A320, at the half of the journey returns to Zurich for engine vibrations;

2 November


Phoenix, Delta MD80, struck a flock of birds after takeoff at 11.000 ft.; the birds penetrated the aircraft skin causing a hole and pressurization problems; immediate return to Phoenix;

3 November


Harare, Air Zimbabwe MA60 (Xian), hit a warthog during a night takeoff and suffers very relevant damages veering off the runway;
5 November
Vancouver, Air Canada B767, struck a flock of birds during takeoff leaving more than 50 carcasses on the runway; the flight went on regularly;

10 November


San Sebastian, Air Nostrum Dash 8-300, struck a flock of about 100 gulls on landing; 46 carcasses found on the runway, substantial damages;

13 November


Darwin, Virgin Blue B737, returns to Darwin after takeoff due to a bird strike with ingestion into the right engine;

14 November


Kansas City, Frontier A319, flew through a flock of birds at 4000 ft, ingesting birds in both engines; right engine shut down and return to K.C.

16 November


Vancouver, Jazz CRJ100, rejected takeoff due to a multiple bird strike; more than 40 small dead birds found on the runway;

17 November


Kolkata, Jetlite B737, suspected bird strike at takeoff then confirmed by the airline; return to departure airport;

19 November


Brescia, Ryanair B737, struck a flock of gulls on landing some of them were ingested in one engine; the gulls normally use a landfill nearby searching food;

25 November


Moncton, Morningstar B727, struck a flock of gulls during landing; aircraft damaged;

26 November


Miami, American Airlines B757, reported a bird strike flying through 10.000 ft, returned to Miami, minor damages;

29 November


China West Air Boeing 737-300, flight PN-6105 from Chongqing, struck a bird on approach, some damages;

30 November


Rio de Janeiro TAM A320, struck a bird during initial climb at about 500 to 1000 feet that was ingested into one engine; returned to Rio airport;
25 November 2009 – Another multiple impact on landing, this time at Brescia Montichiari
According to local press sources, in the afternoon of 19 November a Ryanair B737 arriving from Alghero struck a flock of gulls that usually fly around a landfill nearby, called A2A; a dozen birds has been ingested into one engine. The incident fortunately did not cause any problem to the landing (differently from what occurred to a same aircraft at Ciampino last year) but the damaged engine did not allow the following flights.

No further information is reported, therefore we do not know the exact impact point, if bird carcasses have been found on the runway, the bird species and so on.

The bird attractive effects of a landfill and their implications in flight safety are well known and discussed worldwide. ENAC itself recently issued a technical directive about new landfills near airports: but what about for old existing plants?

Leaving aside the age of landfills, they must be kept away from airports at least 13 km. according to ICAO recommendations, and in any case located in places where they cannot cause a danger to flights. Therefore the existing plants must be mandatorily relocated elsewhere.

For this purpose a new article (714) has been introduced in the Italian Navigation Code, as follows:

"ENAC orders, with a motivated act, that all obstacles not compatible with air navigation safety are felled, and all dangers removed".
24 November 2009 – Multiple bird strike on landing at San Sebastian
The COPAC, Colegio Official de Pilotos de la Aviacion Comercial , reported in their press release a dramatic event of multiple bird strike occurred on 10 November at San Sebastian airport in Spain, currently not yet reported by media. According to the association, an Air Nostrum de Havilland Dash 8-300 on behalf of Iberia, flight YW-8856/IB-8856 from Barcelona, struck a flock of sea gulls while landing at San Sebastian's Airport leaving 46 dead sea gulls on the runway. The airplane rolled out safely, however received substantial damage.
The above mentioned flight arrives around 09:30 PM , in the night. The San Sebastian airport is located inside a small cove and it is surrounded by the sea. The pilot association also reports that it was only the skill of the crew which prevented a catastrophe. (see:
http://www.copac.es/prensa/nota_prensa.asp?id=181
)
18 November – Another bird strike with ingestion in both engines.
After the well-known event of 15 January 2009, when an A320 was forced to ditch in the Hudson river in New York, another case of impact with bird ingestion into both engines occurred in the USA. On the evening of 14 September a Frontier A319 aircraft taking off from Kansas City airport flew through a flock of birds (probably migrating Canada geese) at about 4000 ft. The crew was forced to shut down one engine and to return only with the other one that resulted damaged itself.

According to the American media, most passengers seemed to be in a state of shock during the incident as they saw flames and smelled a horrible odour in the cabin. However both circumstances are rather usual following a bird strike. The aircraft landed safely in Kansas City nine minutes later.

A double ingestion, so far defined a very rare event and even insignificant from a statistical point of view, on the contrary seems to be rather frequent; in Italy it has been reported twice in ten months, at Rome Ciampino on November 2008 (B737 Ryanair) and at Trapani on September 2009 (again a B737 Ryanair). A third case occurred at Rome Fiumicino on July 2007 (B767 Delta).

However while the American events occurred at an altitude higher than 3000 ft., the Italian ones happened virtually at the ground level and inside the airports or in their vicinity.
Significative events of October 2009
Each of the following events would probably deserve an analysis and a comment; unfortunately the lack of time and more detailed information do not allow us to do so. However we point out that in one month at least 10 ingestions have been reported and one into both engines (19 October, Ireland); we remind that until few weeks ago some aviation authorities were stating that a bird ingestion into both engines (of a twin engine) is a very rare event, negligible from a statistic point of view. Unfortunately the facts are showing the contrary: five events in two years (Bourgas 2008, Rome Ciampino 2008, New York 2009, Knock 2009, Trapani 2009).
5 October


Westchester, Jetblu E190, bird strike discovered hours later on the ground;

6 October


Ajaccio, CCM A 319, rejected take off after a bird was ingested into one engine;

6 October


Los Angeles, Qantas B747, during initial climb a bird struck the radome that resulted damaged; returned to LAX;

8 October


Eugene, Allegiant Airlines MD83, struck a big bird while landing, minor damages to landing lights;

11 October


Fukuoka, JAL B 767, ingested a bird into the right engine during initial climb at 500 ft, returned to Fukuoka;

11 October


Rochester, Delta MD88 struck a flock of seagull shortly after take-off and declared emergency reporting engine failure;

12 October


Invercargill, Air Nelson DH8C, rejected take-off after a seagull hit a propeller;

13 October


Yelloknife Canadian North B 737, bird strike on take-off, probably with Snow buntings (Plectrophenax nivalis); engine problems and return in emergency; engine disembarked;

14 October


Ajaccio, CCM A319, engine ingested a bird shortly after take-off, return to Ajaccio, three fan blades damaged;

14 October


Geneva, British Airways A 319, bird strike on initial climb, returns in emergency, no damages;

15 October


Dakar, Brussels Airlines A330, ingested a bird during approach, fan blades damaged ;

19 October


Oslo, Norwgian Air Shuttle B737, multiple impact with ducks on approach, one of them ingested into an engine;
19 October
Knock, bmibaby B737, hit a flock of birds on take-off, diverts to Shannon; both engines ingested birds; substantial damages to one, minor to the other;

19 October


Vancouver, Air Canada E190, struck a flock of very large birds at 500 ft. after take-off; precautionary return to Vancouver;

19 October


Teheran, Bukovyna Aviation MD-83, ingested a bird into one engine immediately after take-off; precautionary return to Teheran;

23 Ottobre


Mosca, Rossiya A319, ingested a bird into one engine immediately after take-off; precautionary return to Sheremetyevo;

23 October


Addis Ababa, Ethiopian B757, rejected takeoff after the left hand engine ingested a bird;

23 October


Flint, AirTran B737, declared emergency after a bird strike on takeoff at 1000 ft. and returned to Flint;

28 October


Sacramento, Soutwest B 737, struck a bird on landing roll;

30 October


London City, Swiss Avro RJ100, struck a flock of birds at takeoff prior to official sunrise, diverts to Stansted and reports two engines damaged (out of four);
31 October
Minneapolis, Northwest B757, struck a flock of pigeons at takeoff, returns to Minneapolis but birds still around all the runways delay air traffic;
29 October 2009 – BSCI Report 2008 – Comments
The Bird Strike Committee Italy (BSCI), that is now an ENAC department, released the 2008 annual report on the state of Italian airports. In the foreword the Committee points out an increase of the airport reports and an improvement of the airport operator response in complying with the legal procedures. However they observe also an increase of the number of birds near the airports that requires a reply in terms of actions to be taken about the internal attractive factors.
The BSCI also remarks an increase of the number of collision with birds even if the number of aircraft movements decreased and despite the new method of counting also the military, school and general aviation flights in the air movement general amount.

The strikes
The total number of reported impacts is 857, 646 of them (75,3%) occurred below 300 ft. and 211 (24,7%) above. With regard to the year 2007, the total impacts increased by 21%, those below 300 ft. by 18% and the others by 30%.
| | |
| --- | --- |
| Events | Diff. % btn 2007 and 2008 |
| Total impacts | + 21% |
| Impacts below 300 ft. | + 18% |
| Impacts above 300 ft. | + 30% |
| Damaging impacts <300 ft. | + 29% |
| Multiple impacts <300 ft. | + 57% |
| Impacts with ingestion <300 ft. | - 39% |
| Impacts with effects to the flight <300 ft. | + 22% |

What it is worrying in the table above is the remarkable increase of the multiple impacts, while is somehow relatively comforting the reduction of bird ingestions into the engines, even if 11 events occurred, almost one on each month.
Furthermore one fifth of all impacts below 300 ft. caused consequences like delays, cancellations, passenger re-protections and very costly repairs.
The annual rate of total impacts out of 10.000 movements (from now on x/10K mvt.) climbs from 3,88 in 2007 to 4,91 in 2008, while the same index related to the impacts below 300 ft. climbs from 2,98 to 3,70. They are objectively high values also considering that the figure of 5/10K established by ENAC in 1999 as an "attention threshold" seems to be now even too much generous .

Phases of flight when bird strikes occur
It's confirmed that the phases of flight when the collisions are more frequent are the landing roll (50% of all impacts) and the takeoff run (29%); basically 79% of bird strikes at Italian airports occurs on the ground.

Times of the impacts
Unsurprisingly, the strikes are mostly concentrated in the summer period, with the exception of seagulls that pose risks also in Autumn, while the daily peak is reported on the morning first hours, then gradually dropping until the evening hours.
This information, jointly with the airport geographical location should be very useful to airport operators in calibrating the prevention and harassment strategies and their costs

Parts of aircrafts struck and damaged
The report shows an analytic table regarding the parts of aircrafts that were struck; firstly we note that the total number of events with a reported point of collision is 342; if we compare it with the total number of collisions (857), we can observe that we do not know the exact point of impact of 60% of events.
However we can understand that 14% of collisions (47 events out of 342) regarded the aircraft engines. In 12 cases out of 47 (26%) an engine damage occurred, while at least in 6 cases out of 12 the engines resulted broken. Damages to engine represent 46% of total damaged parts.

Bird species involved
The report lists the most involved species, pointing out that the "record" still belongs to the Unknown (34%), followed by Swallows/Swifts (18%), Seagulls(18%) and Kestrels (16%).
We may add that the weight of a Swift is about 80 grams, the Seagull can weigh more than a Kilo and a Kestrel weighs about 200/300 gr. It is evident that the Seagull is the most problematic species.
We also note that during 2008 no strike with Hooded Crows was reported, despite their presence is pretty common at our airports. It seems to be confirmed that this species can "learn" behaviors that keep it away from airport dangerous areas.
Even 2 collisions with Swans and 14 collisions with Herons are reported: Swans can reach even 15/20 kilos and may pose big problems to flying aircrafts, Herons weigh more than a kilo.
Considering the geographic locations of Italian airports in function of the impacted bird weight, we note that coastal airports (less than 30 km. from the sea) show higher damage risk rates, due to the presence of Seagulls compared with other critical species.

Naturalistic surveys
The current regulation establishes this obligation for airport operators when some particular events (strikes reported, dangerous events etc…) occur.
| | | | | | |
| --- | --- | --- | --- | --- | --- |
| Aeroports considered | % | Did not present the survey | % | Survey unfit | % |
| 37 | 100 | 8 | 21.6 | 3 | 8.1 |

Almost one third of Italian airports (29,7%) did not present any naturalistic survey or it has been recognized unfit by ENAC. Of course some of the 8 airports that did not present a survey could be not obliged to do so; for example its x/10K mvt rate was lower than five or for other reasons.

The prevention plans
The naturalistic survey should show the need of a specific prevention plan on each airport. This is the basic tool to face the bird presence at airports both with prevention (e.g. habitat management) and dispersal.
| | | | | | |
| --- | --- | --- | --- | --- | --- |
| Aeroports considered | % | Plans not presented | % | Plans approved (out of 27 presented) | % |
| 37 | 100 | 10 | 27 | 12 | 44 |

Almost one third of Italian airports does not have a specific prevention plan and more than a half of presented plans have not been examined or approved by ENAC.

The airports
The "airport by airport" list made by BSCI is pretty analytic and does not allow a general view of the phenomenon; therefore we tried to process data according to different criteria that may allow us to offer more significant understanding keys.
A first comment is a methodological one: the number of strikes alone cannot be used to describe the phenomenon severity. One hundred of strikes with few gram birds are not more serious than five impacts with up to 8 kilo Canada geese. However, as a risk matrix for each airport is still missing, we do not have any other work methodology (and neither ENAC).
So we point out how many airports were in 2008 above the "attention threshold", established by ENAC at 5/10K mvt. and how many were at a slightly lower level, i.e. with a x/10K from 4 to 5.
| | | | | | |
| --- | --- | --- | --- | --- | --- |
| Airport considered | % | >5/10K | % | From 4 to 5/10K | % |
| 35 | 100 | 10 | 28.6 | 8 | 22.8 |

While almost one third of Italian airports ranks above the legal "attention threshold", we may also note that more than a half of airports (51,4%) finds itself in a situation that we may define worrying Furthermore we remark that 6 airports out of 10 "above threshold" presented neither a survey nor a plan, confirming they're useful tools, after all.

The annual airport report
This is an obligation imposed to the airport operator by ENAC in order to monitoring the bird strike phenomenon at each airport; the report is a sort of yearly balance and is also, generally speaking, the "yardstick" of the attention given to the problem by the operator.
Only 5 airports out of 35 (14%) did not present the annual report; unfortunately and paradoxically two of them are directly managed by ENAC.

The Bird Control Unit (BCU)
The ENAC APT 01 A circular establishes that a BCU must be present in every interested airport, in other words a specialized staff unit, possibly with no other duty, responsible for dispersing birds, monitoring their presence, inspecting airport areas.
Four airports out of 35 (11,4%) do not have a BCU.
We have to remind that two of these, Trapani and Treviso, have strike rates respectively 6,1 and 18,3/10K mvt.

Airport Inspections
One of BCU tasks is to make inspections on airport areas and to harass and disperse birds using the devices they have. The table below shows how many inspections are daily carried on.
| | |
| --- | --- |
| Number of daily inspections | % |
| | |
| No inspection | 5,8 |
| From 1 to 6 | 39,7 |
| More than 6 | 8,5 |
| Continuous inspections | 46,0 |
| | 100 |

We prefer not to believe that almost 6% of airports do not make any inspection; probably there is some communication problem or forgotten report or mistake. Pretty satisfactory is instead seeing that almost a half of airports has a dedicated unit operating all day long.

The rate trend
It might be interesting to verify how is the x/10K mvt trend, with regard to the previous year, and how much it is increasing
Airports considered
35(100%)
Increasing Trend
23

(65,7%)
Decreasing trend
11

(31,4%)
Unchanged trend
| | | |
| --- | --- | --- |
| Increasing trend | 23 airports | 100 % |
| From 0,1 to 1,0 | 8 | 34.8 |
| From 1,0 to 3,0 | 11 | 47.8 |
| More than 3,0 | 4 | 17.4 |
As it is easy to see, 65% of airports with a positive trend also shows remarkable increases .

The dispersal means
The report shows the use frequency of the main known dispersal means, pointing out that the most used devices are acoustic, in particular mobile distress calls (about 30%).
It is an objective survey of the existing situation, that however does not explore the effectiveness of each device in general and in that airport environment in particular.
This issue should be discussed during the prevention plan annual assessment and each airport operator should propose changes and improvements to the plan if it proved to be inadequate.
We wrote here above that 51,4% of airports shows worrying annual strike rates, above the legal threshold or slightly below, and that 65,7% shows increasing rates: we expect that ENAC draw their conclusions about these data, also in terms of a device effectiveness assessment.

Where the bird strike report forms come from
BSCI says that 42% of all forms comes from Alitalia, 13% from Ryanair and 8% from AirOne. Reporting also the flight percentage distribution would have been useful, just in order to understand how "virtuous" each company is.

Conclusions
First of all the 2008 ENAC well-made report is an adequate tool to understand the Italian bird strike situation. Unfortunately it still suffers the lack of data and information that must be sent by the airports . Then the analytic approach, especially when airports are under examination, does not allow an easy general problem assessment.
Just to call things by their proper names, we believe that the situation is objectively "worrying", especially in little-middle airports; still too many are the airports above the legal threshold ten years after the issue of the first ENAC regulation, and still too many those with increasing impact rates; still too many are those without adequate preventative means; and we are afraid that many still lack in a "safety culture" at least as for bird strikes are regarded.
Recent 2009 serious incidents in Italy lead us to believe that things are even worsening:
Florence, 14 July: multiple impact with bird ingestion into the right hand engine;
Parma, 1 August: multiple impact with bird ingestion into the left hand engine;
Trapani, 5 October: multiple impact on takeoff with damages to both engines.
So we share and support all initiatives that ENAC is proposing for the future, written at the end of the report; we just would add another one: follow them up soon.
26 October – Bird Strike Committee Italy release the 2008 Annual Report
ENAC has published (only in Italian) on its website (
www.enac.gov.it
) the 2008 Annual Report on bird strikes at Italian airports. A brief resumé with comments in English will follow as soon as possible.
19 October 2009 – Is enough being done ?
On the 8th of October the FAA announced that serious runway incursions were down 50 percent for the most recent 12-month period compared to the previous year. A runway incursion occurs when something or someone intrudes on a runway without authorization. A serious incursion is one in which a collision was narrowly avoided, or there was a significant potential for collision that resulted in the need to take quick corrective action. It is a good and important news that rewards a work carried on for years, remarkable investments and resources in information, new procedures and training. It means above all that if a target is strongly pursued, the results eventually come.

In our field, on the contrary, we have to notice a worrying stagnation, despite the phenomenon is constantly increasing, even with some sensational events brought to the attention of the public opinion. Sometimes we criticize ENAC as they could have more regard for the problem but, as we will see, the international panorama is not much better. From a world general point of view, the directives in the matter of prevention are issued by ICAO; the office in charge had been left without a manager for a long time after the previous director retired, and the new one has been appointed only recently. However we would not like that the wealth of competences and experiences had to be built up again from scratch.

The International Bird Strike Committee, the world top technical institution, is a voluntary private association, composed by representatives from various organizations; although it worked over many years, it does not manage to resolve its contradictions concerning its own role, the relationships with ICAO and the civil aviation and airport authorities; the body that in our opinion should be the ICAO and States technical consultant postpones from year to year even its own constitution act, that should be finally released in the 2010. Its website is stopped at June 2009 but it was updated on that date only to announce the last European meeting in York. During that meeting it was decided to replace the Working Groups with new Task Groups but they have not been activated yet and nothing is known about them. From the domestic organization point of view, the most important of all, the FAA, recently announced its decision to keep bird strike data secret, in order not to displease airports, and it has been forced to make an U-turn only after a general insurrection.

EASA do not have a bird strike expert staff and is not currently planning to hire anybody. The EU do not seem to take care of bird strikes, apart from the obligation to report to the national authorities the relevant events for air safety, including them. In conclusion the general overview is not heartening, and despite some recent occurrences brought the problem to the attention of media and the general public (e.g. the Hudson ditching), we don't see appearing on the horizon a massive programme of initiatives and resource investments to face the problem. We saw that instead in the past for other safety issues like, for example, wind shear and the runway incursions, from which we just started our discussion.
5 October – NTSB issues new recommendations for bird strike prevention
On March 4, 2008, a Cessna 500 Citation entered a steep descent and crashed after colliding in flight with a flock of large birds about 2 minutes after takeoff from Oklahoma City-Wiley Post Airport (PWA). The National Transportation Safety Board (NTSB) determined that the probable cause of this accident was airplane wing-structure damage sustained during impact with one or more large birds (American white pelicans), which resulted in a loss of control of the airplane. Following its investigation the National Transportation Safety Board issued some new safety recommendations. These include recommendations for:
The revision of bird-strike certification requirements;
the NTSB believes that the current airframe certification standards for bird strikes are insufficient because they are not based on bird-strike risks to aircraft derived from analysis of current bird-strike and bird-population data and trends, and because they allow for lower levels of bird-strike protection for some structures on the same airplane;

Airports compliance with the requirements to perform wildlife hazard assessments;
the NTSB is concerned that the FAA did not detect that PWA had not performed a wildlife hazard assessment, especially considering that PWA is surrounded by multiple attractants, some of which were known to the FAA because they were detailed in the FAA-approved wildlife management plan of the close Will Rogers World Airport, Oklahoma City.

Aircraft-specific guidance information for minimizing the severity of aircraft damage sustained during a bird strike;
as the severity of a bird strike against the airframe depends primarily on the kinetic energy of the bird relative to the airplane, in function of the bird weight and the airspeed, it should be possible for any airplane to define airspeeds, as a function of bird weight, that will result in the equivalent bird-strike energy demonstrated during the certification standards. It should be also possible to define minimum safe airspeeds, as a function of airplane weight and flap setting, to provide adequate stall margin for maneuvering.

Reporting of all wildlife strikes;
the NTSB points out that these data, including bird species involved, are critical for a risk assessment and for prevention itself.
5 October 2009 – Multiple bird strike to a Ryanair B 737 at Trapani airport
Another serious incident to a Ryanair aircraft. Italian ANSV started a technical investigation following the serious incident occurred on 29 September to the Ryanair EI-DWD B 737/800. According to the Agency, the aircraft struck a flock of birds on take-off to Charleroi that caused damages to both engines. Some airport sources report that the aircraft landed immediately in emergency on Trapani airport (Sicily) after it flew through a flock of woodpigeons (Columba palumbus) and ingested a number of them; several fan blades resulted damaged in both engines. According to official ENAC (CAA) website, Trapani airport operator did not issue yet any annual report regarding wildlife strikes, that is mandatory under the Italian regulation; however ENAC own database shows a number of 8700 movements and 27 bird strike events, with a ratio of 31/10000 mvt. We remind that in Italy the "attention" threshold is 5/10K. Furthermore 61% of all involved bird species has not been identified.

Trapani Birgi is a military airport where a BASH plan was in force by Air Force in the recent past, with many environmental and bird dispersal directives. Given the lack of the annual report from the civil airport operator Airgest, we cannot know which measures are actually and currently adopted; however we realize that these measures, if really existing, did not prove to be effective, at least until 2007. Actually ENAC reminds that the strike trend is increasing since 2005, raising from a 10,2/10K ratio up to 21,9 on 2006 and up to 31 on 2007. Contacts seem to be on the way between the private operator Airgest and the Air Force for a joint adoption of preventative measures. No comment.

We expect that ENAC adopts as soon as possible all the measures to take the situation under control, also considering that Trapani airport, according to some sources, recently received the official certification stating it is "compliant" with all the Aviation Authority requirements.
September 2009
2 September


Rio de JaneiroGOL B 737, bird strike on take off, returning to departure airport due to bird ingestion into one of the engines;

4 September
Adelaide, Tiger Airways A320, rejected take-off due to an impact with a flock of Galahs (Eolophus roseicapillus) and ingestion at least of one into an engine with substantial damages;


4 September


Recife, BA Cityflyer ERJ170, bird strike after take-off and return to Recife; damages to nose cone;


4 September


Miyazaki, Skynet Asia B737, found damages on right flap due to a bird strike;


7 September


Oita, ANA B 737, rejected take off at high speed due to a bird ingestion into the left engine;

11 September
Bangkok, Finnair MD 11, ingested a bird into the right engine, returns to Bangkok ;


11 September


Sanya, China Eastern B737, rejected takeoff at high speed after a bird hit one of the wings of the airplane; a large dent and a crack was discovered at the leading edge of the wing;


12 September


Mumbai, Air India A321, a dog on the runway forced the aircraft to go around;


17 September


Sabiha Gokcen Turkish Airlines B737, rejected takeoff after a bird struck one of the engines, no damages;

22 September
Dalian, China Eastern B 737, ingested a bird into the right engine, returned to Dalian with one engine only;

27 September
Dusseldorf, Germania B737, hit a flock of starlings immediately after rotation, with a number of birds ingested into the right engine, returned to Dusseldorf;

28 September
Greenville, Air Wisconsin CRJ2, reports a bird strike at 14.000 ft, minor damages to a panel below the windshield;


28 September


Quingdao, China Eastern B 737, hit a bird during the approach;


29 September


New York (La Guardia), Delta MD88, struck a bird on final approach, some damage to the nose cone;


29 September


Trapani, Ryanair B737, multiple bird strike at take off with damages to both engines; emergency landing at Trapani;
23 September – Bird Strike North America Conference
As announced, BC&T participated with an its own delegate in the Bird Strike North America Conference which took place from 14 to 17 September 2009 in the gorgeous town of Victoria, Canada. The meeting was attended by 260 delegates coming from 20 different countries. About 40 papers have been presented. The conference was divided into 8 sessions: Risks and Strategies to Reduce Risks, Aircraft Design & Consequences, Population, Management and the Courts, Radar Technology, Methodology, Habitat Management and Land Use, Wildlife Management, Raptor Relocation.
Few were the presentations that did not mention the 1549 flight, ditched on the Hudson River on 15 January, and this is a visible sign of how much this event touched some raw nerve and highlighted some organizational gaps. Among the most relevant presentations, we would like to mention that one from Paul Eschenfelder (USA), who highlighted the less intensive approach to bird strike issue in the US airports, if compared with other safety problems like wind shear, volcanic ashes or deicing; or that one from Tom Kelly (Ireland) about the possibility that the type of aircraft may affect the probability of an impact with birds. Another topic very discussed regarded the use of radars for early remote detection of flocks of birds on take-off and landing paths.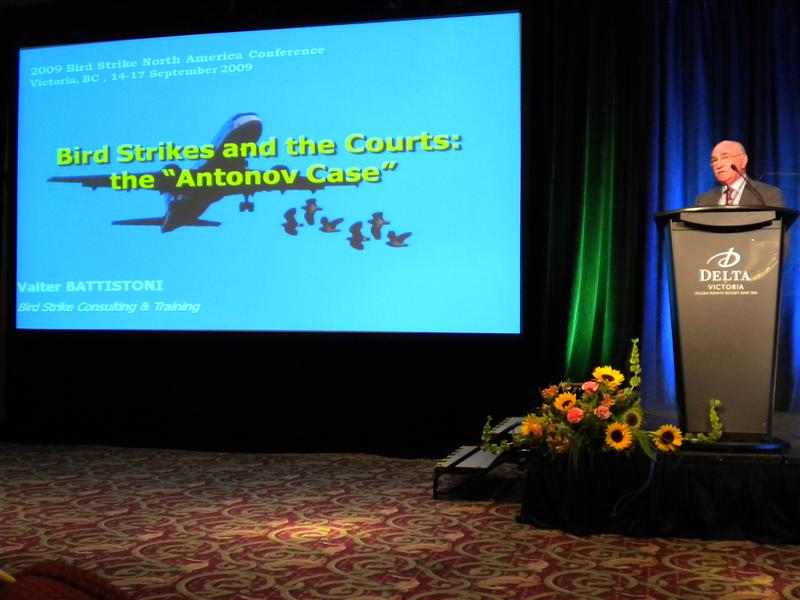 Italians were pretty few but they cut a dash, though unfortunately no official delegation was present. Valter Battistoni (
see picture
), BC&T delegate, presented a sentence on a damage compensation trial following a bird strike, "The Antonov Case", already widely commented on this website. The presentation was particularly appreciated and many copies of the slides were requested (the full paper is online on the Canada Committee website). Also the other "Italian" presentation was very interesting, especially in the light of a practical employment of the device: Paolo Iori, Alessandro Montemaggiori (La Sapienza University, Rome) and Esteban Fernandez Juricic (Purdue University, Indiana) collected data coming from months of experimentations in the USA and Europe landfills, showing reaction and escape times of birds when the remote controlled aircraft model Falco Robot GBRS™ is launched. The Falco proved to be capable to completely clear a landfill from birds in max 10 secs., outstanding time if we only consider the attraction power for birds of a great deal of food waste. On airports times are even lower.
Also in this case the general appreciation was remarkable, and there were several contact requests for possible commercial agreements. We remind that the "Falco Robot GBRS™", Italian project developed by an Italy-Spain commercial consortium, is currently under test by Italian Air Force, while it is already in use on some South America airports. The device, defined as the most relevant bird dispersal innovation in the last twenty years, oddly doesn't seem to encounter interest from Italian civil airports, despite successfully tests conducted (and documented) at Genoa and Rome Fiumicino airports. At the end of the meeting the staff of Bird Raptor Internacional SA, the company in charge of production and distribution of the device, moved to Seattle Tacoma airport for further tests and exhibitions, invited by the airport operator. For further details and information about the meeting, please visit the website
www.birdstrikecanada.com
.
3 September – A case to meditate on
The Bulgarian Aircraft Accident Investigation Unit (BAAIU) released their final report on an event that occurred on 3 August 2008 on Bourgas airport, that deserves to be reported and commented. A short summary of the report (in English) can be downloaded from the internet at
http://avherald.com/h?article=41f1972e&opt=256
.
Analyzing the incident it appears clear that bird strikes cannot be defined fortuitous or unforeseeable events in an absolute sense. They have almost always a definite origin and cause.
In the above mentioned case we can start from the airport location itself, situated between the sea, a lake and intensively farmed land; the airport is also close to important bird migratory routes. The risk management organization follows, from the risk assessment to the prevention and dispersal measures, carried out by three airports departments and granted by six gas cannons, two of them out of order when the incident occurred. Finally the total lack of control over the airport surroundings, with agricultural land's use and landfills.
How many Italian airports are, more or less, in the same situation? How many projects of new airports, or expansion of those existing, are carried out without a proper naturalistic study? There is often much more concern for the landscape impact than for the safety issues.
How many airports did not develop a risk assessment yet, and first of all, where are the criteria and guidelines that the Aviation Authority should implement in order to achieve a common and univocal risk assessment in each airport? How many airports can affirm, supporting it with data, they have an efficient wildlife/bird control? How many have adopted just one scaring or dispersal method, and what does it happen when this is out of order for any reason? In how many airports, especially in minor ones, nothing is done, trusting in their luck?
How many Italian airports reported to ENAC bird hazards outside the airport boundaries and which actions are carried out to remove or control them? On runway extensions of how many airports farmers continue to plough and sow whatever they want even just besides the fence?
Fortuitous cases? Unforeseeable events? Bad luck? Let's not make up excuses, please.
3 September – Significant events of August 2009.
As usual we list the significant impacts with birds, as reported by the specialized press.
We point out the remarkable events occurred on days 1,3,5,8,16 and 23 regarding impacts with flock of birds, i.e. the most dangerous condition for the possible damages that may result. Also the cases occurred on 11,17 (2 events), 23 and 30 were very serious due to the need to reject take-off at high speed, critical condition as well. On the 30 event there was even the reject of take-off after rotation.
1 August


Parma, Windjet A319, flew through a flock of gulls ingesting a number of them in the left engine; landed on departing airport with one only engine;
2 August


Dhaka, Livingstone A330, ingested a bird in one engine after the take-off and returned to Dhaka;

2 August


Antalya, Belair B757, left engine ingested a bird; aircraft returns to Antalya airport;

3 August
Derry, Ryanair B737, diverted to Dublin after having flown through a flock of birds, airplane under inspection;
5 August


Santa Barbara, Mesa Airlines CRJ2, hit a flock of geese at take-off, minor damages;

5 August
Presidente Prudente. GOL B 737, ingested a vulture at take off, probably an Urubu;
7 August


Saarbrucken, Luxair DH8D, multiple impact on approach;

8 August


London, Norwegian Air Shuttle B737, hit a flock of storks during initial climb, one stork ingested in the left engine;

9 August


Raleigh Durham, Northwest A320, hits a bird during take-off run, few minutes later lost left engine and returned to departing airport;
11 August
Glasgow, British Airways A320, bird strike while landing, minor damage to a light glass cover;
11 August


Frankfurt, Lufthansa B747, rejected take-off at high speed due to bird ingestion into an engine;

16 August


Fargo, Linx DH8D, hit a flock of birds during climb, returned to Fargo after having burnt fuel for 30';

16 August


Paris, Cathay Pacific A340; returned to Paris when at FL 310, for a bird ingestion;

17 August


Copenhagen, Malev B737, ingested a bird into the right engine, return to CPH; three fan blades damaged;

17 August


Toronto, Air Canada A320, rejected take-off due to an impact with a Red-Tail Hawk (Buteo jamaicensis);

17 Agosto


Charlotte, Republic E170, rejected take-off at high speed due to a multiple bird strike with a flock of geese with bird ingestion in the right engine;

22 August


Osaka, ANA B737, a bird entered and struck the nose gear bay during takeoff damaging a hydraulics tube; the damage forced to a diversion;

23 August


Wilmington (NC), Atlantic Southeast CRJ2, rejected take off after a multiple bird strike;

23 August


Mumbai, Cathay Pacific A 330, struck a bird with the left hand main gear probably during the approach; the strike damaged hydraulic lines;

30 August




Calgary, Air Canada A320, rejected take off after rotation due to a bird strike and stopped safely;
18 August – Which anti-birds system does work better?
Once again the excellent website
www.aerohabitat.eu
(only in Italian) allows us to reflect over one of the most relevant themes in the field of bird strike prevention. Taking his cue from a public competition for assigning the airport bird scaring service, based on falconry, in a southern Italian region, the commentator wonders whether such a system is really effective. The full question posed therefore is:
does falconry have a definitive effectiveness in respect of other bird dispersal systems?
" at least, we'd say, for those airport managers who decided to invest a relevant deal of money for it.
In our opinion the question is correct but it should be preceded by two more:
1) Does a definitive system exist on its own? 2) How to assess the effectiveness of a bird scaring device?
So far science and experience answer "no", it does not exist, otherwise the bird strike problem would not have the relevance we know for the damaging effects that may cause to the aviation. All systems employed so far encounter resistances based mostly on habituation, as the birds, after a certain period of time, do not consider them as a threat. So, generally speaking, integration and alternation between more systems are seen as the best solution, with the human presence adding a deterrence value.
The second question is directly referred to an on-the-field experimentation. A method can be scientifically defined effective if it can decrease the impact number (or bird presence) in a certain place, with regard to a historical database before its employment, or after it. Of course the protocols of the device employment as well as those of data collection must be objectively and strictly predetermined, and all this requires a long and delicate specialist work. Basic is also the concept according to which a experimentation conducted with same criteria must reproduce the same results even if conducted by different researchers.
Every other assessment cannot be other than subjective when not self-celebrative; if the same subject is given the task to disperse birds and to assess the result….well, one may suspect. So far this kind of experimentation has been done very few times on a large scale, and therefore it is actually impossible to state, supporting it with evidence, that a device is more effective than another. Then each airport is different from any other and every species may react differently to the same device.
As for the falconry, ENAC were rather clear; they officially declared that falconry is just one among the possible different systems that may be used in the bird prevention….and its effectiveness is related to the ornithological and environmental conditions of each airport. We fully agree with this statement, based on the unique reliable experimentation on falconry at airports carried out about ten years ago at JFK, that did not show brilliant and definitive results in terms of effectiveness. Our answer to the main question will therefore be: so far there is no evidence that falconry at airports has a definitive effectiveness on bird strike prevention.
In conclusion, the choice of one or more systems should be preceded by a thorough analysis of the local environment, by an assessment of historical bird strike database and by the study of the system effectiveness in other similar environments. This preliminary phase should be carried out by independent agencies, not involved in system productions or in bird dispersal procedures.
At last, talking about falconry and experimentations, we would like to mention that one, still in course, concerning the "Falco Robot GBRS", a sophisticated remote controlled model aircraft in shape of Goshawk (Accipiter gentilis) that combines biological skills and robotic technologies, and that has been presented in the past also on this website (see page "Papers"). There's a lot of expectation for new data on target birds reaction time that will be presented at Vancouver BSC USA/Canada on next September. Of course B.C.& T. will be there.
11 August – Bird strike at Florence on 14 July.
A multiple bird strike with bird ingestion into the right hand engine occurred at Florence airport on 14 July 2009. The Meridiana A319 reg. EI-DFA took-off at 21,37 to Cagliari. Immediately after take-off the airplane flew through a flock of gulls and struck a number of them (species not identified); some birds were ingested into the engine; the crew reported strange noise, vibrations and the usual smell of burnt meat in cabin. They decided to return to Florence airport where the emergency procedures were activated. A first runway inspection allowed to find three carcasses of gull on threshold 05 and others close to the airport fence. The airplane landed without further problems about 15 minutes after take-off. After an engine inspection 12 fan blades had to be replaced.

Given the place where the carcasses have been found, the impact should have occurred at a very low altitude; also the time is relevant, after the sunset and therefore in poor light conditions. Inevitably, as in previous cases, a problem will arise regarding the position of the birds, if they were settling on the runway or not, and if they were in sight from the Tower, all these being fundamental factors in order to assess possible liabilities for damage compensation. At the moment ANSV has not opened a formal investigation yet.

The Florence impact ratio on 10.000 movements was 4,5 on 2007, corresponding to 16 strikes, decreasing after 5,2 and 5 of the previous two years.

The scaring devices in use consist in a combination of distress calls and blank cartridges. However the BCU is supposed not to be operative at the event time. According to ENAC data, seagulls were rarely involved in bird strikes at Florence.
4 August – Windjet claims damage compensation from Parma airport
The Windjet AD announced in a press conference that the company is planning to sue Parma airport for 7 mln Euro for damage compensation following the bird strike with ingestion which occurred to its aircraft on the 1st of August. If the airport operator would agree, the litigation will end outside a Court. On the contrary, it would be the third Italian civil trial for damage compensation due to a bird strike. Here below there is a very short resume of the first two cases. Many other news are reported in the page "papers" of this website.

Genoa Case, sentence released on 2001, a TNT Bae 146 on take-off hit a flock of gulls, supposed to settle around the runway. 7,4 mln USD damages. Condemned to restoration: 50% MoT, 30% airport operator, 20% former operator. Substantially confirmed in the followed appeal.

Antonov Case, Genoa Court, 2006, Incident very similar to the one above. 2,5 mln USD damages: condemned to restoration: 35% airport operator, 35% ATC Agency, 22,5 % MoT, 7,5% former operator. The appeal will follow on next autumn.

In both cases public administrations (MoT and ATC) have been condemned to pay even large amounts of money. The reasons of the sentences (both released by the same judge) are founded on lack of preventative measures, lack of controls over the airport, inadequacy of warnings to the air crew.
3 August - Two bird strike events occurred to Italian aircrafts
On 1st of August at Parma airport a Windjet A319 from Parma to Palermo with about 100 passengers on board flew through a flock of seagulls after take-off ingesting a number of them into the left engine. The airplane returned to Parma with one only engine running.
The next day, on 2 August, a Livingston A330, reg. I-LIVL, on service on behalf of Kuwait Airways from Dhaka to Kuwait with 229 passengers, ingested a bird during climb. The airplane returned to Dhaka airport.

According to data issued by ENAC on 2007, the annual rate of impacts/10.000 movements of Parma airport was 4.7, while the 2006 datum was 5.9 (the Italian legal "attention threshold" is 5).
3 August – Hudson ditching: Canada geese were migratory and not resident.
The accurate analysis of the feathers found inside the Airbus A320 engines, ditched in the river Hudson last January, allowed the experts to find out that the bird species involved was the Canada goose (Branta Canadensis), but the birds sucked by the turbines were not resident but migratory. In those days we remarked in this website that the take-off paths from La Guardia were just above the natural parks and areas where local geese habitually live. Instead through DNA analysis the experts have found out that the feathers belonged to birds that ate food typical of the Labrador region. The findings are not irrelevant as now the authorities will have to solve two problems, either those related to the identification of migratory patterns, to changes of flight paths and maybe airline timetables, or those regarding the local geese, with controls over bird population, habitat modification or even bird removal.
3 August – Significant bird strike events occurred on the month of July 2009
Specialists always use the term "bird/wildlife strikes" meaning that flight safety has to face risks of impacts not only with birds, but also with a variety of other animals: this month we see fox strikes, fish strikes and even pig strikes. There are also potentially catastrophic events, or others that resemble serious accidents of a recent past, and that only by pure chance ended better than them.
4 July
Islamabad, Shaeen B737, a bird hit an engine during initial climb, precautionary return and flight cancelled;


5 July


Ostend, World Airways MD11, gull ingestion, fuel dumping over the sea and precautionary landing on departing airport;

5 July
Kansas City, Frontier A319, large bird hit the right wing causing a large dent;

7 July
Paris, Air France A 340, ingestion of a bird into one engine that had to be shut down, fuel dumping and return to CDG, flight cancelled;

7 July
Baltimore, Southwest B 737, impact with a flock of birds at take-off, immediate return; found about 40 carcasses of birds on the runway (starling sized);


8 July


Djamena, Air France A 319, bird ingestion into one engine during climb; landing on departing airport;


8 July


Matsuyama, ANA Dash 8, struck a fox during take-off roll that had to be rejected;

11 July
Porto, TAP A 330, struck a flock of birds during climb, precautionary landing, damages and flight cancelled;


14 July


Goa, Spicejet B737, struck a bird that got entangled in the nose gear;

16 July
Islamabad, PIA B 747, nr. 4 engine ingested a bird one minute after take-off, the flight went on with three engines;

16 July
Ahmedabad, GoAir A320-200, ingested a kite in the right engine and rejected take-off, some fan blades damaged;

17 July
Nagpur (India), Kingfisher ATR72, impact on landing with a pig crossing the runway, no obvious damage but aircraft inspected;


17 July


Charlotte, USAir B737, struck by a bird at 8000 ft. 20 July, Amsterdam, Transavia B737, struck a falcon while climbing, return to AMS;


21 July


Rio de Janeiro, Delta B767, impact with a bird while landing, no damage;


22 July


Alexandroupolis, Olympic B737, ingested a bird into an engine shortly after takeoff; return to the departing airport and flight cancelled;

23 July
Reggio Calabria, Air Malta A319, impact with a bird on approach, aircraft ferried back to Malta;

25 July
New Delhi, Emirates B777, bird struck the right hand engine, no ingestion; next flight delayed about 12 hrs;


25 July


London (Can.), Jazz DH8A, hit by a fish dropped by an osprey flying over the runway, rejected take-off;


29 July


Madrid, Iberia A320, ingested a bird at 3000 ft. during climb, return to departing airport;


29 July


St.Louis, American, MD83, ingested a bird into its right hand engine shortly after takeoff, declared emergency and returned to the same airport;


29 July


New York, Delta B767, rejected take-off due to multiple bird strike, a number of tyres deflated;
17 July 2009 – Kestrel destroys a Boeing 747: final report released
The Belgian authority released the final report on the accident occurred on May 25, 2008 to a Kalitta Air B747-200 that overran runway 20 of the Brussels Airport, Belgium after a rejected take-off due to a bird (Kestrel, Falco tinnunculus) ingested by the nr 3 engine. The aircraft came to a stop 300m after the end of runway 20, above the railroad embankment. The aircraft was severely damaged; it broke in 3 parts. The crew of 4, and a passenger have safely evacuated, and suffered only minor injuries.

The report highlights that the bird strike was a contributing factor even if the accident was caused by the decision to reject the take-off 12 knots after passing V1 speed.

The report also states that the airport Bird Control Unit should be reinforced and its leader should be dedicated to the task.

"Training should be improved to involve all topics related to wildlife in an airport environment; it is currently limited to get a hunting licence. The bird control methods are currently limited by general law on hunting. Dispersal by lethal method are therefore limited to determined time frame (hunting season), and prohibited for protected species such as the one having caused the bird strike.A request for a waiver on these requirements should be considered. "

We remind that a dedicated BCU is also an Italian ANSV recommendation following the 2007 Delta incident at Fiumicino airport. We also believe that no firearms should be allowed inside an airport and that in order to prevent bird strikes there is a great deal of things to be done before shouldering a rifle.
9 July – ENAC replies to ANSV recommendations following the 07.07. 2007 Rome Fiumicino incident.
ENAC replies with a "Follow-up Action" to ANSV recommendations following the investigation upon the 2007 incident at Rome Fiumicino airport, where a taking-off Delta B767 hit a flock of seagulls and many birds were sucked into both engines (see Archive 2009, 21 April and 5 May).

As for the elimination of attracting factors, in particular water bodies inside and outside the airport, ENAC is going to issue a paper on the bird/wildlife attractive factors. These guidelines will identify practicable measures for the bird strike risk mitigation inside or in the vicinity of airports. Also airport operators will be requested to adopt measure in order to eliminate attractive factors inside the airfields.

As for the Bird Control Unit service, ENAC will reaffirm to the main airport operators the opportunity to set up a BCU with no other duty than bird control and dispersal. However we would prefer that the word "opportunity" was replaced by the noun "obligation".

As for the air crew awareness of the need to immediately report to ATC personnel the bird presence on the airfield, ENAC says it will comply with this recommendation through the Bird Strike Committee Italy and Agency's territorial branches. Finally, as for the adoption of risk matrixes to develop a correct risk assessment, ENAC will soon put forward a proposal to the IBSC, in order to achieve internationally accepted indexes, so that airport data may be comparable. The status given to the four replies is "open" ; it means that the needed actions to fully reply to all the recommendations have not been completed yet.

Comments and some observations on the ANSV recommendations have already been explained in the above mentioned articles, so that it seems unnecessary to repeat them now. We will be waiting to know in detail the papers that ENAC promised to issue and its further actions.
6 July – A new electronic device
We have recently read on an Australian website that Qantas has now trialled and adopted a relatively low-cost electronic device on its domestic aircraft fleet that would significantly reduce the frequency of bird strikes. It is an electronic switching system that causes an aircraft's landing lights to pulse 45 times per minute like the flashing lights on emergency vehicles. The technology should announce an aircraft's approach, thereby giving a bird more time to get out of the way. "The Qantas evaluation collected data sets from "host" B737 aircraft fleets that had the system installed. It then compared outcomes against the remaining non-host aircraft in each respective fleet over a minimum period of 12 months operational service. In some statistics from the trials the number of bird strikes per 1,000 departures was reduced by up to 66%.
Before the trials were completed the statistics were so convincing that the decision was made to equip the entire Qantas B737 fleet with the system. It is now fully operational in Australasia with a number of other operators, including QantasLink's Dash 8." Apart from W.Churchill famous statement "…there are lies, damned lies and statistics…", the short announcement does not allow us to assess the correctness of the test methodology: as a matter of fact we do not know the employment differences between aircraft with the device and aircrafts without it (daylight, night, airports used, ground times etc…), the data collection procedures, the phases of flight when the strikes occurred, the previous rates on the entire fleet and so on, and therefore we prefer to reserve any judgment about it.
We just add that the system had already been presented in the year 2005 at the USA/Canada bird strike meeting without causing particular excitement, while on 2002 a study (Blackwell and Bernhardt, Efficacy of Aircraft Landing Lights in Stimulating Avoidance Behavior in Birds) concluded that the flashing light system appeared to be effective only at the beginning with Brown-Headed Cowbirds (Molothrus ater), but not consistently; then further experimentations showed that this specie did not react anymore in a significant manner. Other species (Canada geese, starlings, gulls, mourning doves) showed little or no avoidance behaviour.
6 July – Significant bird strike events of June 2009
As usual, we present the most significant bird strikes occurred in the past month; we have to highlight an impact occurred in Italy, and another that once again involved La Guardia airport at New York, where on last January an A320 was forced to ditch in the Hudson river following a multiple bird strike. Then a more serious incident occurred at Vancouver on 8 June, also this time involving Canada geese.
6 June
Darwin, Jetstar A320, rejected take-off following a bird strike to the left engine;
7 June
Lampedusa, Windjet A319, bird ingestion into left engine during the approach;
7 June
Cincinnati, American Eagle ERJ 145, collided with a bird on final, landing gear lights damaged;
8 June
Vancouver, Air Canada B777, struck 6 Canadian geese during a go around due to the presence of birds, relevant damages including a bird ingestion into the right engine;
10 June
Riga, Fokker 70, rejected take off due to a bird strike on airplane left side;
14 June
Diyarbakir, Tailwind Airlines B 737, hit from a bird on a wing on final approach, go around and safe landing;

19 June


Bujumbura, Brussels Airline A330, an antelope hit the landing gear during the landing roll, damages.

21 June


Montreal, Air Canada ERJ190, birds hit right wing, damage slats and force to an emergency landing;

26 June


Chattanooga, Pinnacle CRJ200, struck a number of birds after take-off, precautionary return on departing airport;
30 June
La Guardia NY, American B737, hit birds on final approach at 900 ft., nose gear damaged with leak of hydraulic fluids.
23 June 2009 – Talking about risk matrix
The readers of this website probably realized that recently we talked twice (21 April and 15 June) about the risk assessment matrix. But what does this mean?
At the beginning those who tried to define a bird strike danger index just counted the events occurred within a defined space (the airport) and a defined time period (one year). An airport with 10 yearly strikes was "more dangerous" than one with 9. Immediately it was however realized that absolute figures did not give a phenomenon faithful image since they were largely influenced by the air traffic; it is more probable that a busy airport has more impacts than one not busy, with the same (hypothetic) bird presence. The index was then enriched with an annual bird movement relationship, based on the formula "impacts/10.000 air movements".
It was soon realized that even this rate did not give a satisfactory vision as it still did not clear what and where the real danger was: n impacts/10K with few gram sparrows and the same rate of impacts with 1 kilo seagulls are very different things. Therefore it was necessary that the different circumstances, number of impacts, frequency, bird weight, single or multiple impact, were somehow "balanced" in order to get to a reliable danger index. We remind that setting such an index is important, for example, in starting and funding prevention measures. Today some Italian airports where important events recently occurred justify themselves stating that they are far below the 5/10K "attention threshold" established by the Authority
For those interested to this issue, and how to draw a standard risk matrix, we provide the following link to the J.Allan et al. paper presented at Warsaw IBSC 2003 conference:
www.int-birdstrike.org/Warsaw_Papers/IBSC26 WPOS7.pdf

The advantages provided by this risk assessment technique are many: more parameters are kept in consideration; the attention is focused on the risky species, whose control increases the safety; prevention costs can be rationalized and their effects enhanced; assessment incongruence based on absolute figures can be avoided and the real dangers pointed out.

In order to set up a risk assessment based upon a risk matrix, an airport accurate database is needed as well as a national long period database (20/30 years) and a bird remain identification policy. This is the reason why the specialists emphasize the need of a continuous bird strike reporting as well as the accurate bird identification. However the risk matrix practical application in Italy is still difficult due to the national database dimension (a systematic data collection in Italy started only in 2002) and to the lack of a specific regulation.
16 June – European Meeting of International Bird Strike Committee
The IBSC European meeting took place on the 9th and 10th of June at the Food and Environment Research Agency (FERA) in York (UK). This meeting was strongly requested by the many who could not attend the latest conference at Brasilia on November 2008. The meeting was attended by about 50 experts coming from all over Europe; Italy was represented by the ENAC Manager for environmental policies, Mr. Eminente, and by the ornithologist consultant Mr. Montemaggiori. Mr. Battistoni attended the conference on behalf of B.C.& T.

Besides many qualified scientific presentations, some changes in IBSC internal organization were proposed, in particular overcoming the old Working Groups to be replaced by four Task Groups, Training, Risk Assessment, Outreach and Habitat Management.

As for the first one, the problems related with trainers' qualification and certification were discussed, as well as the identification of the trainees and the training programs required. ICAO did not provide yet guidelines on these topics. Interesting contributions were presented on the Risk Assessment issue, specially about the identification of the Risk Matrix elements to be adopted. The state of implementation of IBSC Best Practice has also been taken in consideration, observing that IFALPA, ACI CAA UK substantially adopted them, while the question is still on stall at ICAO. Furthermore the EASA role was discussed, since the Agency is going to issue rules for European airports on this matter, as well as the type of cooperation to be established with this Agency.

The next IBSC meeting will take place in Cairns (Australia) on September 2010, probably to involve the huge Far East aviation area; however many are those who wonder how large will be the European participation, given the costs related, and when a policy for approaching the African continent, whose bird strike problems and solutions are largely unknown, will be started.
8 June 2009 - Italian Air Force tests the Falco Robot GBRS
The Italian Air Force has published on their official website the following press release.
"The Falco Robot GBRS has been tested on Wednesday 3 June 2009 at Galatina AFB, base of the 61st Stormo. It is the latest device designed to keep away from airport runways the birds that may threat flight safety. Bird strikes are a problem well known since a long time and it showed that the most relevant hazard is related with landings and take-offs on airport areas where birds are often present.
The remote controlled model aircraft, that resembles shape and movements of a real bird of prey, has been designed to match the natural predator effectiveness, in terms of bird deterrence, with employment flexibility and the low cost typical of an industrial product".
The Falco Robot GBRS had been already successfully tested on July 2008 at Rome Fiumicino airport; the test results had been published and presented at the Brasilia meeting of the International Bird Strike Committee on November 2008. That full paper can be downloaded from the page "papers" of this website. For those interested we suggest to visit the website
www.birdraptor.com
.
Military aircrafts are particularly vulnerable to bird strikes especially for their low level operative missions, where birds are more frequent, but also for the high speed they reach and for being used in environments whose wildlife is often unknown.
8 June – Traffic disrupted at Milan Linate airport due to the presence of birds
The newspaper "Il Corriere della Sera" reported that Milan Linate airport remained closed for one hour from 09,00 of 5 June due to the presence of a flock of Common Swifts on the runway. At 12,00 Alitalia was still informing that flight operations on Linate were disrupted and that the consequences would affect the entire daily schedule. Five arriving flights are reported diverted to near airports while ten departures were delayed.
We do not have further information but, as the Common Swifts live on flying insects, we should presume that the birds have been attracted by a great concentration of insects; this should lead to investigate on the reasons of their presence due, for example, to the type of airport vegetation or to a recent grass cutting etc….
The event confirms that an airport habitat management, for air safety purposes, is a complex and multidisciplinary matter and that require specialists.
5 June – New safety improvements from bird remote sensing
Using radars to identify flocks of birds that may cross aircraft flight paths it is not a recent discovery. One can adopt all the possible strategies to prevent birds from being attracted into an airport, but no ATC controller can warn pilots about the presence of a flock kilometers away without a remote sensing system.

Paradoxically, earlier radars showed the defect to receive false returns, confusing birds and aircrafts; now that defect is enhanced and engineers work to improve the systems in order to reveal only birds excluding aircrafts. In the USA some companies are experimenting new and sophisticated software for data interpretation under FAA supervision. How remote sensing can help? As first it allows "to see" the birds in advance and, if possible, to avoid them. Then it allows to assess their physical mass and the consequent impact risk. But above all it allows to identify and measure their flight paths and altitude in order to predict their future movements (at least the habitual ones). The critical point at the present state of art is how to get a clear data interpretation, avoiding all false echoes, and how to make the system accessible for ATC controllers. The following inevitable development will be to use the radar capabilities for habitat management programs and bird dispersal.
3 June 2009 – Relevant bird strike events occurred in the month of May 2009
We remind that the following list does not claim to be exhaustive; it depends only on the official reports (and the transparency) of airlines, aviation administrations and airport operators.
5 May


Calgary, Westjet B737, strike with three Mallard ducks during take-off roll, struck left engine, precautionary landing. The engine received fan blade.

7 May


Hamilton (N.Z.), Pacific Blue E190, ingestion of plovers in the right engine during take-off roll, rejected take off, three fan blades damaged;

9 May


Mumbai, Air India A321, bird ingestion at take off, landing on departing airport;

12 May


Amsterdam, Windjet A320, ingestion at take off, landing on departing airport;

14 May


Salvador, Webjet B737, a vulture (probably an Urubù, Coragyps atratus ) hit the left wing and got embedded into the wing.
16 May


Konya (Turkey), Turkish A320, bird ingestion after take-off, return to departing airport;

21 May


Moscow, Aeroflot A319, ingestion after take-off, return to departing airport;

23 May


Orlando, Southwest B737, bird strike during short final approach, minor damages.

25 May


Jinan, Sichuan Airlines A320, impact at 2000 ft. during approach on the right main gear with damages that forced to a go around and to an emergency landing;
26 May


Atlanta, Aitran B737, impact during the landing roll;

27 May


Indore, Kingfisher A320, bird ingestion into one engine during initial climb, return to the departing airport;

28 May


Fairbanks, ConocoPhillips B737, multiple impact after take-off, windshield crack and engine cowling dented, precautionary landing on departing airport;

30 May


San Francisco, Lufthansa A340, bird ingestion into engine nr. 2 on approach;

30 May


Oslo, SAS B737, a bumble-bee (bombus terrestris) blocked the pitot system and caused an airspeed indicator malfunction with a precautionary landing on the departing airport;

30 May


Moscow, Aeroflot B767, struck a flock of birds at take off, the flight was continued to Los Angeles were an inspection revealed damage to the right hand engine.
2 June 2009 – Air France's Airbus A330 missing in the Atlantic ocean
While search operations are still in progress, we wish to express our solidarity to the relatives of the victims. We don't know practically anything yet, but certainly our activity and research fields, given the time and place of circumstances, seem to have nothing to do with the accident. However, as for all the organizations involved in flight safety, an event like this forces us to wonder whether and where the safety system failed. We hope that the technical investigation may soon discover the causes and prevent such events from occurring again.
27 May 2009 – The Ryanair vs. ENAC controversy is still going on
We translate and summarize the text of an ENAC press release of 25.05.2009. "ENAC inform that the Lazio Administrative Tribunal rejected the Ryanair's request to suspend the effectiveness of two letters signed by the ENAC General Manager in reply to the Irish carrier and concerning the Agency fulfillments regarding bird strike problems at Rome Ciampino airport. In particular the Court highlighted that ENAC, as national civil aviation Authority, declared that the preventative measures adopted by the airport operator are fit to face the safety risks showed by the carrier. ENAC also remind that their continuous monitoring (on bird strike situation) is well documented in the yearly reports on bird strikes at domestic airports."

So we understand that after a formal legal complaint from Ryanair (that lost an aircraft in the Ciampino incident) concerning supposed ENAC inadequacy in preventing bird strikes at Ciampino, the Court totally accepted ENAC declarations about the effectiveness of preventative measures adopted by the airport operator, as they are based on the aviation authority status of ENAC and without entering into the merits of the declarations themselves. Therefore at this stage there's no reason to suspend the effectiveness of any letter of ENAC.

However the relationship highlighted by ENAC between the "continuous monitoring" and the bird strike yearly reports deserves a comment; it sounds as if the activity of control and vigilance upon airport operators was demonstrated by a yearly summarizing document. The latest yearly ENAC report concerning Ciampino shows an impact number increase by 43% if compared with the previous year, and tries to explain this escalation as it was due to the flight number increase, to a more attention by the operators and to some bird population increase at a regional level. It concludes highlighting the bird dispersal activity, conducted with a combination of means like distress calls, blank cartridges, 4X4 vehicles and bi-tonal sirens.

All this in only 15 lines, in which the ENAC "continuous monitoring" should find a confirm. We do not see an assessment on the effectiveness of the means adopted, in particular after a so consistent increase of strikes. We do not see at least a mention of attractive factors assessment inside and outside the airport. We do not know anything about contacts with local municipalities and other administrations to evaluate, and possibly counter, these bird population increases. There's no news about an airport habitat management. Above all we do not know how many inspections have been conducted on the bird strike prevention system and what resulted from them. Now, two are the questions: a) ENAC present a very skimpy yearly report that does not show all the problems, the initiatives and undervalues their own action, or b) we must think that all this "continuous monitoring" is only a mere impact count and a generic bird dispersal means description.
19 May 2009 – Bird strikes issues in the ENAC 2008 Report on the state of Italian Civil aviation
The Italian CAA (ENAC) issued the 2008 Report: the document can be downloaded (in Italian only) from the ENAC website www.enac.gov.it. We note that a paragraph is dedicated to the bird strike issue.

We find out that in Italy 936 bird strikes have been reported during the year 2008, 728 under 300 ft. therefore affecting airport sites according to Italian classification. In the year 2007 the impacts were 708 (546 <300 ft.). That means that we had an increase of the number of impacts by about 32%.

No figure is provided regarding the number of air movements in 2008, on which we can found a sort of "severity index", but we do not think that the Italian air traffic increased by the same rate on the last year.

ENAC itself lead to believe that at least in the second half the air traffic should have remained steady, or even decreased, because of the world economic crisis. So, if the rate of bird strikes affecting commercial flights was 4.52 out of 10.000 movements in the year 2007 (source ENAC), we may reasonably suppose that on 2008 the critical threshold of 5 has been reached and exceeded. By the way, we also believe that threshold is too high (see Archive, 21 April 2009). In the Report ENAC explains such an escalation with the "air traffic increase" (but it decreased due to the crisis, didn't it?) and with "more attention to the issue received by the airport operators". These are however the same old reasons we are listening to from at least ten years, missing only the 'abnormal increase of some specie due to environmentalist practices and no hunting policies'. The harsh reality we have to face is that bird strike phenomenon is really in a continuous, objective, gradual and worrying increase.

As for bird attractive factors, the Report states: "In particular, among the BSCI (Italian Bird Strikes Committee) activities , the risk assessment related to the presence of landfills near airports begins to play a significant role". Better late than never, and let's hope this role becomes central.

Disquieting is the sentence: "a particular work has been done to achieve an airport situation monitoring, that should be completed in 2009, trying to involve more and more the operators to prepare and send yearly data reports with continuous and standardized information". We understand from these words that ENAC still do not have a clear and realistic picture of bird strikes on the Italian airports, also because airport operators send their reports in a discontinuous and not standardized way. And all this ten years after the first circular on bird strikes.

We just would like to observe that talking about bird strike problems, but also about noise and pollution, in a general (and public) report on the state of national civil aviation, appears to be today a proper and foregone decision, but it was absolutely inconceivable just four or five years ago, when only scraps of attention were dedicated to the matter and the warnings fell on deaf ears. Something is changing.

The problem is that CAA pays for years of (guilty) inertia: reading that it is able to provide bird strike data only from 2002 is really depressing; what is worrying is the speed of change, that the situation would require faster.


5 May 2009 – Further comments to the ANSV final report on Fiumicino incident
Surfing the web after the ANSV final report on the Rome Fiumicino incident (see Archives, 21 April 2009) we have observed a number of reactions and comments. Most of them have in common a judgment of poor awareness of the bird strike phenomenon even by the "experts". According to these comments, even some old and expert American pilots do not know that on their home airport there is personnel working for keeping birds off the field, and obviously they don't ask the TWR to call them when it would be necessary; as well as many other pilots and regulators are informed about bird strikes only by the newspapers and TV.

They also point out that even major airlines do not release clear instructions and procedures on how to behave and react before and after a bird strike, and almost all the aviation authorities did not issue any regulation on this topic. Australia is cited as a meritorious exception, where a local carrier has recently issued a Flight Standing Order stating that anytime a bird strike to an engine (or engines) is known to have occurred and there is obvious sign of engine damage, then a landing at the nearest suitable airport should be accomplished. "Obvious signs" means increased vibrations, a change in engine parameters that is not normal for the phase of flight, or significant difference in the parameters between engines (we are really curious to know the procedures adopted by the Italian national carrier). They also point out that the word birdstrike just means nothing for too many people, exactly like the word windshear was not in the aviation lexicon for so many years, before some serious incidents led the authorities to fund researches on it. In conclusion the comments agree on the fact that there is a need of a complex and multidisciplinary approach to the bird strike problem and that crew training must play a key role.

The Italian situation does not appear very different; maybe pilots have more risk awareness, but counting the events still seems to be the only visible activity of the national aviation authority. They issued good regulations for airports, it is true, but did not much in the field of the airline flight crew specific training. Landfills are still around airports and there's no sign of their closure or displacement, despite this is provided by the law . No sign also in the field of flight rules: in Canada there is a proposal to restrict aircraft speed on departure to 250 knots, as high-speed departures can result in severe damage to aircraft and injuries to passengers and crew. In Italy we do not issue even the bird hazard aerodrome charts (see Archive, 6 March) In the USA an ornithologist must be included in the wildlife staff of each airport, in Italy there is just one at the CAA, on temporary job, of course. An influent American expert points out that three months after the Hudson accident the NTSB has not issued yet directives or recommendations on how flight crews should deal with birds and writes: "shame"! And he goes on: "What level of loss is it going to take to galvanize these corporations and government agencies into action? Lawyers knocking on their doors, perhaps?" In Italy four similar events occurred since 2003 (Linate, Pescara and two at Rome), and by the grace of God alone the loss of human lives was limited to two pilots, and the CAA was condemned in two Courts to pay million dollars (of the taxpayers) for damage compensation….
4 May 2009 – Relevant bird strikes occurred on April 2009
2 April


Luanda, TAP A340, bird ingestion during initial climb, immediate landing on the departing airport;

4 April


Madrid, Air Nostrum DH8C, bird strike on approach, no damages;

6 April


Orlando, Allegiant Air MD83, impact with a bald eagle (Haliaeetus leucocephalus) during take-off, precautionary landing, minor damages;
9 April


Sacramento, UA A320, bird strike during initial climb, precautional landing on departing airport, no damages;

9 April


Salvador (BR), TAM A320, impact on the left wing during the final approach;
10 April


Vancouver, Air Canada A320, bird ingestion into left engine, rejected take-off, engine to be changed;

15 April


Dallas, American B757, bird strike into right engine on final approach;
17 April


Iasi (Romania), Tarom ATR42, collided with a flock of birds on approach, radome damaged;

17 April


Atlanta, Atlantic Southeast CRJ2, impact with a large bird on take-off, precautional landing, minor damages;

24 April


Orlando, Southwest B737, hits two large birds during the landing roll;
30 April – Worrying increase of multiple engine damages following bird strikes
On the March 31 News page we wrote that so far the aeronautical authorities thought that bird strike events affecting more than one engine were extremely improbable and that this possibility could be even neglected. The following is a list of events occurred since 2004 showing the contrary:
Jun 26th 2004


Sarit AN12 at Wau Airport (Sudan) engines 3 and 4 hit on takeoff, 4 injured, airplane destroyed;

14 July 2004


Pescara (Italy), TNT Bae 146 (4 engines), hit engines 2 and 3 on landing,engine 3 replaced.

Mar 28th 2006


Phoenix Avia AN12 at Payam (Iran) engines 1,3 and 4 hit on takeoff, airplane destroyed;
Jul 07th 2007


Delta Airlines B767 at Rome Fiumicino (Italy) both engines hit on takeoff, safe landing;

Jul 29th 2007


Aviatrans AN12 at Moscow Domodedovo (Russia) engines 3 and 4 hit on takeoff, 7 fatalities, crash;
Nov 10th 2008


Ryanair B737 at Rome Ciampino (Italy) both engines hit on short final, probably written off;

Jan 15th 2009


US Airways A320 at New York,NY (USA) both engines hit, ditched in Hudson River, written off.
Seven multiple engine damages in the last five years, 7 fatalities, an unknown number of injured, 5 aircrafts destroyed or written off, are not really entities that can be neglected. Furthermore two out of six events occurred in the city of Rome in about 16 months, even if in different airports and with different bird species: this really should be a worrying sign.
24 April – FAA withdraw the proposal to protect bird strike data

According to the US Department of Transportation the FAA will make its entire Bird Strike database available on a public website starting from today. The database contains all bird strike data since the information was first collected in 1990. The FAA is also withdrawing the proposal to protect the data, after a 30-day period when several negative comments arrived (see Archives 2009, 31st March). In the same time the Agency also plans to work with the aviation community to find ways to improve and strengthen bird strike reporting. According to The Aviation Herald this means that bird strike reports will be mandatory in the future.
21 April 2009 – Released the technical investigation report on the Rome Fiumicino incident of 7.7.2007

The ANSV concluded their technical investigation on the incident occurred on 7.7.2007 at Rome Fiumicino airport to a Delta B 767 (reg. marks N834MH) taking off to Atlanta. The aircraft impacted a flock of young gulls (Larus michaellis) and at least 30 were ingested into both engines. Immediately after strong vibrations were perceived and the temperature in one of the engines was above the normal. The captain decided to immediately return in emergency to Fiumicino after having dumped a great deal of fuel to remain within the landing weight allowed. After a safe landing an inspection revealed substantial damages to both engines. The ANSV stated that on Fiumicino airport "all" available means were in use to disperse birds and that they can be historically deemed as adequate to maintain the phenomenon below the "national alert threshold" (5 impacts out of 10.000 movements). However the Agency points out some critical deficiencies in the prevention system like an insufficient maintenance of water drain ditches, the presence of ground depressions and some works in areas bordering on the airport. This causes water ponds and the conditions for the presence of birds.

Furthermore the underestimation by the flight crew of the risks connected with the presence of birds, observed during the taxi, was a contributing factor, as well as the presence of a huge landfill not distant from the airport. The ANSV therefore recommend to ENAC (CAA) for adopting strong measures in order to avoid attractive factors (water ponds) inside and outside the airport, to order airport operator not to employ the bird control staff in other duties, to remind flight crews to report to the TWR bird presences and to adopt on each airport a risk assessment based on a risk matrix, taking into consideration not only the number of strikes but also the bird species involved and the damages caused.

B. C.&T. notes that the event was potentially catastrophic and that, oddly, it caused very scarce sensation on the Italian media. On the contrary in the USA it has been widely emphasized. It also contradicts the statistical theories that state the rarity of impacts that involve both engines: apart from this, three more similar events occurred from 2005 to 2007.

A first comment regards the statement on the use of "all" available means at Fiumicino (distress call and propane gas cannons); actually many others available means exist, like falconry for example, or rocket guns, blank cartridges etc. Let's say that the most known and effective were in use.

As for as they can be considered adequate, this is just a respectable opinion; certainly if the airport is perfectly compliant with the Italian regulation, the ANSV itself admit that from 2002 to 2006 the bird strikes showed an increase by 77%: what about to try with something else? In 2008 the airport operator successfully tested a new device, the "Falco Robot GBRS" but it is not in use yet (see in the "papers" page a full report about the experimentation).

A second remark regards the so called "national alert threshold" established (from 1999) in 5 bird strikes out of 10.000 mvt. Ten years after it would be better to lower that threshold, or possibly withdraw it at all, as it happens in many other countries, removing alibis and temptations to hide data, establishing the naturalistic airport study and the prevention plan as mandatory premises for the airport certification. A third remark regards the internal attractive factors; the warnings upon the maintenance and the ground grading are appreciated, but there is poor emphasis on external factors: the Malagrotta municipal landfill is still a strong attraction for birds that often overfly the runways coming from the coast. When landing on runway 34L pilots may see a number of little lakes, pools and ponds just close to the airport that represent a natural habitat for many bird species. All this despite the new Navigation Code allows ENAC to avoid new attractive settlements and to cease those already existing: maybe a "stronger" recommendation would have been useful.

Fourth comment: the ANSV want the Bird Control Service be conducted on a exclusivity basis, and no other task be assigned to the staff. That's perfect, as sometimes there are hundreds of things to be done before (or instead of) making a bird inspection. IBSC recommend that on big airports the bird control service is continuously in action along the runways. Not totally satisfactory is the call only for air crews to report the presence of birds to the TWR; actually no mention is made to the role and duties of the air traffic controller, who cannot and must not just receive and retransmit information but must play an active role, looking out for 360° using their privileged location, searching birds so assuming a proactive function. A further recommendation in this sense to ENAV (ATC Agency) would have been appreciated.

A sort of "soft" blame on pilots can be read between the report lines, "guilty" for having seen the birds, having thought to ask their dispersal and having let things go their own way after the repeated take off clearance from ATC and the remarkable delay of the flight. It's the same old problem, the pressure on the pilots. We would have appreciated a recommendation also to airlines in order to highlight in the training courses the risks connected with bird strikes as well as the duty/power to stop flight operations by airport authority when the bird concentration becomes incompatible with flight safety. Last remark: we totally support the call for a risk assessment based on a risk matrix. In conclusion the investigation report points out many important topics and offers many positive lines of action. However a greater awareness is still needed that bird strike risk today is probably the most serious threat for flight safety, for its frequency and unpredictability, since almost all other critical aspects of the flight have been resolved by technology and experience.
2 April 2009

As usual we report the most relevant bird strike events occurred during the past month
6 March


Bermuda, American Airlines B 737, bird strike on landing;

8 March


Windhoek, Air Namibia A340, probable bird strike after take-off; flight program disrupted for some days;
9 March


Tessaloniki, Easyjet A319, multiple bird strike on take-off with damages to one engine;

12 March


Atlanta, Atlantic Southeast CRJ 200, impact with two geese during climb; precautional landing with wings and nose damaged;

14 March


Shangai, JAL B747, bird ingestion after take-off and immediate diversion on another airport of the city;
16 March


New Orleans, Delta B757, bird strike during initial climb and precautional landing on the departing airport;

17 March


Orlando, Southwest B737, impact during the landing roll, minor damages;

18 March


Toronto, Canadair CRJ100, forced to pull up as another airplane on the runway rejected the tak- off clearance due to the presence of birds;

20 March


Bandar Lampung, Sriwijaya B737, rejected take off for bird ingestion in the left engine;

21 March


Bologna, Eurofly A320, bird strike (2 feral pigeons) during approach, minor damage to a flap;

21 March


Newark, Continental B737, bird strike with ingestion during final approach at about 220 ft.; flame out right engine.

25 March


Larnaca, Aegean A321, multiple bird strike on take-off and ingestion of 4 birds in the right engine; immediate landing with only one engine on the departing airport;
31 March 2009

According to AP, the FAA (Federal Aviation Administration) is proposing to keep secret its vast records on where and how often commercial planes are damaged by hitting birds. The Agency fears that some airports and airlines may stop reporting incidents to avoid a negative publicity, or that data may be incorrectly interpreted. The FAA seems worried the public will compare the bird strike data on the airports involved without the necessary skill for drawing conclusions about their state of safety. We remind that in the USA reporting is a voluntary activity and that the FAA ten years ago rejected a recommendation from NTSB (National Transportation Safety Board) to make it mandatory. The proposal raised a wave of critics in the USA and someone even asserted that it could compromise the safety itself, as far as, for example, the great deal of private and executive airplane owners that would be excluded from the information. After the Hudson accident, the FAA rushed to inform that the loss of both of a jetliner's engines to bird strikes is rare, but this statement seems to be contradicted by at least four incidents occurred between 2005 and 2007 in which both engines of an airliner were damaged; one of these occurred at Rome Fiumicino airport on 7 July 2007 to a Delta B767 that was forced to an emergency landing immediately after the take-off. This caused enormous sensation in the United States, much less in Italy, where it passed almost unnoticed. In Italy the reporting of impacts with birds is mandatory since 1999; the correct execution of this obligation is a requirement for maintaining the airport certification. ENAC issues an yearly report on bird strikes with the data of each domestic airport. The 2007 circular APT 01 A , in accordance with the International Bird Strike Committee recommendations, highlights that the total number of strikes at an airport should never be used as a measure of strike risk or of the performance of the bird controllers, as a correct risk assessment should also consider the airport location, the number of air movements, the mass, the weight and the number of birds involved etc…
24 March 2009

We apologize to the visitors of this site if, for once, we leave the strict matter of bird strikes for a brief reflection on different aviation issues. We are referring to the recent 1st degree Italian Court sentence following the Tuninter ATR72 incident, ditched in the Sicilian sea on 16.8.2005 where 16 persons lost their lives. The captain and the first officer have been condemned to a very severe punishment (ten years of prison for both), as well as other subjects all belonging to the Tunisian airline. This sentence immediately brings to our memory those released after the Linate airport air crash (2001), that caused so high sensation even at an international level, as well as many other previous cases when aviation operators, pilots in particular, had to face trials, sentences, punishments. Following these cases many perplexities emerged about the real effectiveness of criminal condemnations in case of air accidents . After the first Linate sentence the important magazine Flight International wrote "rough justice", stating also that "it is not rare for individuals to be punished for the sins of the system in which they work". If the Linate sentence, under a high media pressure, inflicted punishments never seen before in Italy for transport accidents, the Tuninter one is even more severe; however we still strongly believe that an air accident is the result of organizational factors in which, generally speaking, the individual (pilot, air controller ) is the last ring of the chain and surely does not deserve the heaviest sanction. We will read with attention the reasons of this sentence, but since now we wonder what impact it may have in the world of civil aviation. The lesson that aviation history teaches us is clear: only an accurate investigation of air accidents will allow the industry to hope to understand how to prevent them in the future. But it is clear that such an investigation cannot achieve successful results if those involved in an accident hide what they know, including their own errors, fearing for a criminal prosecution. Criminalization, or not, of aviation accidents was under consideration in the US about ten years ago: some researchers stated that criminalization was not necessary to create deterrence; airlines and other interested subjects already have a lot of deterrents. Air crews risk their lives, airlines have to face a massive negative publicity, while professionals like pilots, controllers, engineers, are often the first to be dismissed following an air accident. Some pilots also say that if an accident occur they will probably die, and this is a sufficient reason to do well their job. A recent doctoral study of the criminal prosecution of pilots or air traffic controllers following aircraft accidents and incidents has concluded that they have a definite detrimental effect on flight safety, but fail to have the intended effect of deterring individuals from making mistakes. The study found controllers are particularly aware that successful prosecution could follow an unintentional error, and the resulting stress may even make mistakes more likely (Flight International cited by Aviation Safety Network). Even ICAO officially recommended to avoid the start of an automatic criminal prosecution for aeronautical operators involved in an accident or incident since such a procedure would compromise a quick technical investigation. We agree with these opinions as well as with the urgency, for flight safety purposes, to achieve a different (and more indulgent) consideration of the human error in operative environments with high organizational complexity and that require immediate response times.

6 March 2009

Many countries like Slovenia, Chile, Singapore, Korea etc. drew up bird concentration charts for their airports and issued them on their domestic AIPs: it is a simple method at almost zero cost in order to keep pilots permanently informed about the possible bird presence around airports (click here to view Santiago chart). Of course now we are expecting that the local authorities do something for eliminating or mitigating the bird presence, but at the moment we think it is a measure to imitate. Who knows, maybe it could be useful in the recent case of a multiple bird strike at Rome Ciampino airport, that fortunately caused "only" the loss of a Boeing 737.

1st March 2009

Most significant strikes occurred in February 2009:
01.02.2009


Teresina (Brazil,) GOL B737/800, bird strike at take off with ingestion (feral pigeon), back to departing airport ;
03.02.2009


Denver, United Airlines B757 bird strike at take off with ingestion, back to departing airport;

13.02.2009


Tacloban (Philippine), Cebu Pacific Airbus 320, bird ingestion at landing, aircraft grounded for maintenance;

16.02.2009


S.Josè (USA), United Airlines B757 rejected take off at 120 kts due to a multiple impact with Gulls;

25.02.2009


Naples (Italy) , Air One B737, strike with a single Larus cachinnans during final approach, dent in the radome (see picture);
24 February 2009

The disputes after the Rome Ciampino multiple bird strike (10 November 2008) rise high. Ryanair CEO, Mr. Michael O'Leary, directly accused ENAC (Italian CAA) for not having solved the problem of starlings at Rome, that caused the hull loss of their B 737/800 EI-DYG, fortunately without victims. The ENAC General Manager, Mr. Silvano Manera, counterattacked (17.02.2009) assuming that every conclusion on the accident is premature, as its causes are still under investigation by ANSV (Italian Agency for Flight Safety, an independent organization). This Agency made a press release on 12.02.2009 informing that after the right engine disassemblage, the presence of organic material (birds) inside the engine resulted confirmed, pointing out that as much as 90 starling impacted against aircraft structure. At last, the Press agency Avionews, returning to a news released time before on the Aerohabitat. org website, unveils that the ENAC office at Ciampino airport did not renew the NOTAM (Notice to airmen) concerning the presence of starlings on the airport, that expired on 21.01.2007, and that decided to do it only on 25.11.2008, when the accident already had occurred. Therefore pilots, according to this source, were not allowed to correctly assess the potential risk. All this leads to believe that the biggest Court trial in the Italian legal history for damage compensation following a bird strike is on the way. We remind that the legal precedents in Italy were the three Genoa sentences (two in a first-degree trial and one following an appeal), all of them concluded with a decision of damage compensation to be paid by the airport operator, ENAC, Consorzio del Porto di Genova, and in one case also by ENAV (Air Traffic Control Agency). In some other cases, not reported by the press, airport operators preferred to solve the controversy out of the Courts, making a private arrangement. BC & T notices that Court decisions do not solve prevention problems, as it also seems that after the three sentences not a massive answer came from ENAC and airport operators in terms of actions for increasing prevention means, (apart from the directly involved airport). The only result that risks to be achieved is the increase of insurance costs, paid by the airport operators in order to cover themselves in case of an accident. And this surely does not encourage the air transport users.
1st February 2009

In the month of January 2009 many cases of bird strike have been reported, fortunately without serious consequences for the people involved. Here below you may find the most relevant.
5.01.2009
Bangkok, British Airways B744, multiple bird strike on landing
10.01.2009


Firenze, Alitalia A319, bird strike at take off

15.01.2009,


New York, USAirways A320, ditched on Hudson river following a multiple bird strike

16.01.2009,


Istanbul, Lufthansa A321, bird strike on take off, one engine landing

16.01.2009


Guadalajara, Interjet A320, bird strike on take off, one engine landing

17.01.2009


Tokyo, Star Flyer A320, damaged flaps for bird strike on landing.

21.01.2009


Ahmedabad, Finnair B752, bird strike on landing
26.01.2009


Istanbul, Turkish Airlines A321 bird strike on take off, one engine landing
Counting how many million Euro these bird strikes will cost is useless; everybody may estimate them. Surely they will cost hugely more than a good prevention plan on each of the involved airports.

27 January 2009
Another A321 and again at Istanbul airport. This time the bird strike at the take off occurred to a Turkish Airlines Airbus A321-200, registration TC-JRE, in flight from Istanbul to Copenhagen with 143 passengers on board. The plane was forced to return to the Ataturk Airport on one engine, after the left hand engine was struck by an undefined bird. No problems for passengers apart from a delay of 2,5 hours.
16 January 2009
The echo of the Hudson river accident was still in the air, when another news of a relevant bird strike, oddly neglected by the media, came out. At Guadalajara (Mexico) another A320 of Interjet with 106 passengers on board impacted one or more Urubus (Coragyps atratus), a vulture, suffering a bird ingestion in the left engine. The crew immediately shut the engine down and the aircraft landed safely on the departure airport about 20 minutes after. We may say "a normal" procedure. On the same day at Istanbul (Turkey) a Lufthansa A321 faced a similar problem, again at the left engine, and everything happily ended grounding the aircraft and booking the passengers on other flights. If we consider also the Rome Ciampino Ryanair event, a worrying situation comes out, made of near tragedies that do not lead to optimism at all: bird strikes are continuously increasing, be it for their number and the seriousness of their effects. Contrariwise, the answer of the prevention agencies appears to be weak. Just for talking about Italy, there is a very advanced legal and regulatory situation, but "on the field" controls are scarce, as well the resources deployed, the task to face a very complex phenomenon which requires joint efforts (also CAA, ATC, Air Force and airlines must play a role) being delegated only to airport operators. It is not obviously only a matter of pyrotechnics or car horns that somebody still uses to disperse (?) birds. The issue "bird strike" must become a matter of priority for the Aviation Authority, as it was for the runway incursions or for the inspections on East Europe aircrafts, after the fall of the wall. USA have alert systems for pilots signalling in real time the presence of birds on the air routes and at airports, providing for information on flock consistency, direction, speed, risk assessment; in Europe some northern countries are making their first steps on this route, in Italy the hazard mapping is still distant. We would settle for a rapid and strong action against landfills and for habitat management, as, at least in this fields, we have good laws.
15 January 2009
An Airbus A320 of US Aiways taking off from La Guardia airport in New York bound to Charleston NC with 155 persons on board impacted a flock of birds, probably geese, and suffered the loss of power to both engines, that must have ingested some birds. The bird strike reportedly occurred shortly after the take off. The aircraft reached an altitude of 3000 ft. but, after an attempt to divert to Teterboro NJ airport, was forced to ditch in the Hudson