Archive 2020
Civil Protection rejects plan for Montijo airport, due to elevated risks
ANEPC, the national civil protection authority, has given the thumbs-down to the government's project for a new airport terminal in Montijo on the basis that the site is 'too susceptible to elevated risks, including earthquakes, tsunamis and 'bird strike'.
The naturalist and writer Jonathan Franzen said it would be a crime against nature to construct an airport on the site – stressing "there simply are no alternatives for the majority of migratory birds that stop there to rest". This increases the likelihood of 'bird strike' which could end up being fatal for much more than the birds…
https://www.portugalresident.com/civil-protection-rejects-plan-for-montijo-airport-due-to-elevated-risks/
Stowaways
We are used to the impacts with birds at all airports and at all latitudes, but not to seeing them flutter inside the airplanes. This is what happened to a GoAir aircraft that was preparing to take off from Ahmedabad airport: two pigeons entered the cabin during the boarding of passengers. After a tiring hunt, the birds finally left the aircraft and the flight was able to take off.
https://www.nzherald.co.nz/travel/news/article.cfm?c_id=7&objectid=12313055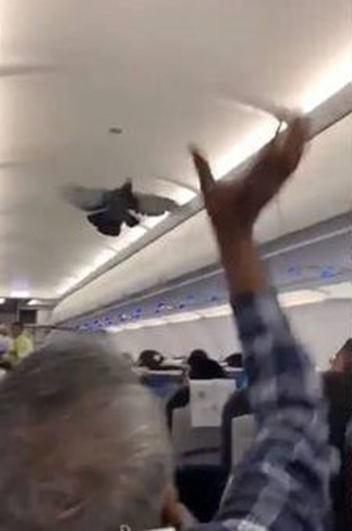 (One of the birds inside the aircraft)
Not just to airplanes
Still about oddities, we report a damage caused by a large crow to the London-Glasgow railway line. The bird hit the high voltage cables causing a short-circuit and blocking the railway activity on the line for the entire day of March 4, 2020.
Relevant occurrences of the quarter January – March 2020
1 January – Rockhampton (Australia)


Qantas Link DHC8, bird strike during the initial climb; returned to the departure aerodrome with minor damage;


1 January – Amsterdam


KLM B737, during the initial climb he right hand engine suffered a failure emitting a loud bang, streaks of flames and severe vibrations due to a probable bird strike; immediate return 25' after departure;


3 January - Roatan (Honduras)


Línea Aérea Nacional de Honduras S.A. Bae Jetstream 3100, during the take-off run a large vulture impacted the aircraft's nose. The crew continued takeoff and the flight to destination.




(The aircraft's nose after the impact; photo taken from

Avherald.com)



4 January – San Francisco (CA)


China Airlines B747, during the initial climb the crew reported that a bird strike had taken out some of their flight instruments. The crew then decided to dump fuel and land back about 75 minutes after departure. An inspection revealed that some of the AoA probes were damaged.


6 January – Karachi




PIA A320,

during the approach a bird impacted the nose of the aircraft. The airline complained that garbage and even dead animals had not been removed from the ground underneath the approach path.




6 January – Karachi


PIA A320, bird strike on approach;


9 January – Dire Dawa (Ethiopia)


Ethiopian Airlines B737, on final approach the aircraft flew through a swarm of grasshoppers and received a huge number of insect impacts into engines, windshield and nose of the aircraft. The crew went around twice and eventually diverted to their ultimate destination Addis Ababa.

A thorough inspection did not find any damage.


http://newsinflight.com/2020/01/13/grasshoppers-swarm-an-ethiopian-boeing-737-on-approach/




(Photo: On the Wings of Aviation taken from Avherald.com)





14 January – Victoria (BC)


Westjet B737, during short final the aircraft encountered a flock of geese and struck approximately 10 of them. The crew executed a missed approach and diverted to Vancouver where landed 15' after the go-around. The aircraft nose cone had been punctured by the impact.
https://www.cbc.ca/news/canada/british-columbia/westjet-flight-hits-bird-calgary-to-victoria-vancouver-1.5426732




(The nose after landing; photo taken from Avherald.com)






18 January – Islamabad (Pakistan)


Etihad A320, during the landing the crew reported a collision with some animal. A runway inspection revealed a wild boar dead on the runway, the inspection of the aircraft revealed

no damage. Pakistan's CAA reported the wild boar had digged its way underneath the airport perimeter fence onto the airport.




21 January – New York (JFK)


American B777, on short final the aircraft flew through a flock of geese and initiated a go around landing about 7 minutes after the go around. The aircraft received damage to its right hand engine when it struck the large flock of geese.
https://newyork.cbslocal.com/2020/01/21/bird-strike-gives-flight-passengers-a-scare-coming-into-jfk-airport/


22 January – Rio de Janeiro


LATAM Brasil A320, in the initial climb suffered a bird strike; the crew landed back 15' after departure;


23 January – Kimberley (South Africa)


South African Airlink Embraer ERJ-170, was accelerating for takeoff when the crew spotted a bird on the runway; it was then ingested by the right engine that emitted banging sounds and vibrations and lost thrust. The crew decided to land back about 30 minutes after departure.


25 January – Moline (IL)


Envoy ERJ145, in the initial climb out the crew declared Mayday reporting a bird strike and landed back about 12 minutes after departure. An inspection spotted Canada geese nearby the runway;


27 January – Cluj (Romania)


Wizzair A320, after take-off the aircraft received a bird strike. In the absence of abnormal indications the crew decided to continue the flight to Charleroi. However then the crew decided to divert to Katowice (Poland), where the aircraft landed safely about 30 minutes after that decision. Airport sources reported the aircraft diverted as it needed to be changed.


31 January – Kisumu (Kenia)


Jambojet DHC8, bird strike on landing; one passenger sustained a minor finger injury and was immediately treated following the bird strike; the damage on the plane was yet to be established but the airline shedule had to be readjusted.
https://www.tuko.co.ke/337991-passenger-injured-bird-strikes-jambojet-plane-kisumu.html
https://www.businessdailyafrica.com/corporate/shipping/KAA-urges-airlines-to-be-on-high-alert-to-avoid-bird-strikes/4003122-5443970-96l5usz/index.html


3 February – Des Moines (IA)


Endeavor CRJ900, bird strike on approach;


11 February – San Jose (Costa Rica)


Alaska Airlines B737, apparently the aircraft suffered a bird strike during climbing, the bird hit one of the engines and the crew decided to return. The aircraft landed safely approximately 30 minutes after departure.
https://www.crhoy.com/nacionales/ave-se-estrella-contra-motor-de-avion-y-lo-obliga-a-aterrizar-de-emergencia/


11 February – Penza (Russia)


S7 Sibir Airlines, ERJ170, on final descending through about 50 feet the left hand engine ingested an owl that caused damage to fan blades;


18 February – Ahmedabad (India)


GoAir A320, rejected takeoff following an issue with the right engine caused by a bird ingestion; a small fire erupted in the engine, but this was quickly put out by airport fire services.
https://indianexpress.com/article/cities/ahmedabad/ahmedabad-airport-goair-aircraft-fire-6273718/


20 February – Dublin


Stobart Air ATR72, during the takeoff run hit a hare on the runway; the crew decided to land back 30' after departure; following an inspection the aircraft was cleared for its schedule;
https://www.dublinlive.ie/news/dublin-news/dublin-airport-flight-hare-strike-17795191


23 February – Boston (MA)


Jetblue A321, hit a bird on rotation and had a burning odour on board, however, no abnormal indications; the crew decided to land back; the aircraft was grounded and could not fly according to its schedule;
https://boston.cbslocal.com/2020/02/24/jetblue-bird-strike-boston-logan-airport/


28 February – Sibiu (Romania)


Wizzair A320, during the initial climb the left hand engine ingested a bird prompting the crew to return to Sibiu about 15 minutes after departure.


3 March – Zurich or Los Angeles


Swiss B777, a post flight inspection after the landing in Los Angeles revealed evidence of a bird strike, the aircraft was unable to depart for the return flight that was cancelled as result.


6 March – Juba


Sudan Airways A320, during the initial climb an engine ingested a bird prompting the crew to land back about 20 minutes after departure. Two engine blades were found damaged as result of the bird strike.


7 March – Amsterdam


KLM B777, during the approach received a bird strike into one of the engines;


7 March – Toronto


Air Canada ERJ190, rejected take off at high speed (135 kts.) due to a bird strike;


8 March – Los Angeles


Qatar B777, bird strike on approach that cauused a large dent in the radome; return flight cancelled;


9 March – Philadelphia


American B767, during the approach the aircraft flew through a flock of geese. One of the geese struck the left Angle of Attack (AoA) sensor.


16 March – Knoxville (YN)


Endeavor Air CRJ900, during the initial climb the crew reported they had encountered more than 12 birds at about 5000 feet and needed to return as a precaution; the aircraft landed back 16' after take off;


16 March – Zurich


Swiss CS300, during the initial climb the aircraft received a bird strike. The crew firstly continued the climb but later decided to return to Zurich. The aircraft landed back about 30 minutes after departure.


22 March – Norfolk (VA)


American A319, at landing two birds impacted the aircraft causing damage at the left engine;


30 March – Dublin


Aer Lingus A330, the crew declared PAN PAN reporting a bird strike on rotation. The crew shut the affected engine down and landed back about 35 minutes after departure. A runway inspection found a dead small bird on the runway.
https://www.breakingnews.ie/ireland/aer-lingus-coronavirus-mercy-flight-returns-to-dublin-following-bird-strike-on-take-off-990987.html


31 March – San Antonio (TX)


iAero B737, bird strike at rotation; precautionary landing back about 12' after departure;